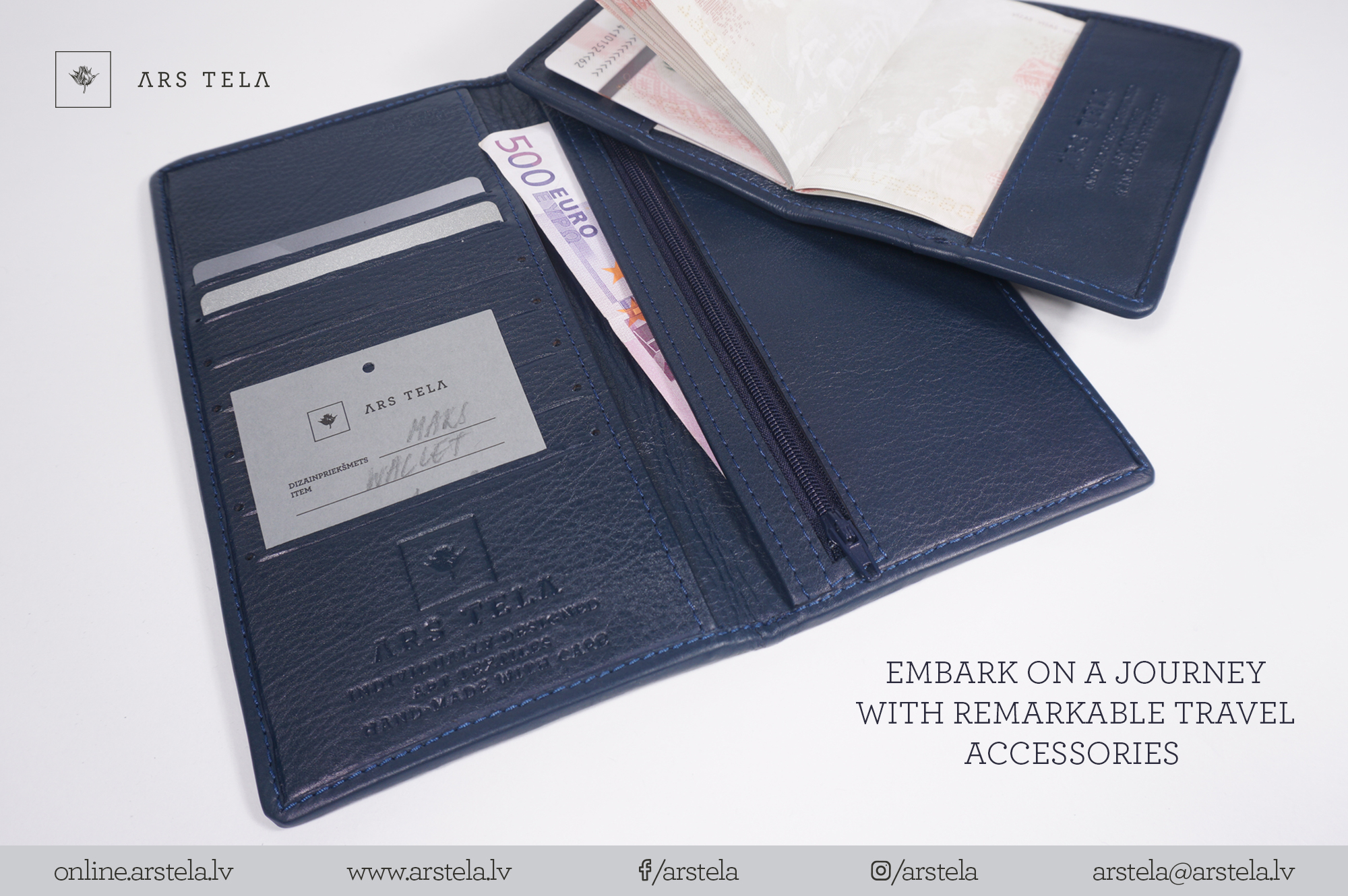 EMBARK ON A JOURNEY WITH ELEGANT TRAVEL ACCESSORIES
EMBARK ON A JOURNEY WITH ARS TELA  TRAVEL ACCESSORIES
WITH TIMELESS ELEGANCE  GRACE AND STYLE
WRAP YOUR TRAVEL DOCUMENTS AND PASSPORT INTO AN EYE-CATHING COVERS.
UPON DESIRE SOME CAN BE COMPLEMENTED WITH WALLETS/ PURSES
PASSPORT COVER  SIZE 10,5 x 14,5 cm
DOCUMENT FOLDER SIZE    12 x 24 cm
WALLET/ PURSE  SIZE     11 x 21 cm
ARS TELA designer Alvida Klinge launched  a smart line of Bag & Travel Accessories for Ladies and Men.
ARS TELA textile designers create a fabric design bringing out the beauty and roughness of Linen which is often called the Baltic gold. Some design fabrics tell the story of Baltic sunrise or sunset or whisper the colour palette of the Latvia Nature.
In a fruitful collaboration with Latvian Leather artists, ARS TELA hand-woven Linen Fabric is applied to genuine leather, individually selected and hand-picked for every Travel Accessory  by a Latvian Leather Artists Inese and Zanda.
Inese and Zanda with admirable passion and commitment cuts each little piece of hand-woven fabric, makes leather thinner for each piece separately and take many hours to bound by hand highest quality  leather which is imported from Italy for each Travel Accessory.  At the end, our logo is engraved purely by hand as a sign of excellence and slow production.
Almost every item is of limited edition and utmostly one piece.
CELEBRATE GENUINE ARTISTS COLLABORATIVE CREATION
ARS TELA trully follows its conviction of slow production and nurturs Latvia's long traditions of CRAFTSMANSHIP AND CONTEMPORARY DESIGN.
These Travel Accessories can be a very special gift for the ones you love and believe they deserve something unique and distinctive. 
CHERISH ATTENTION TO DETAIL AND SLOW PRODUCTION
TREASURE BALTIC CONTEMPORARY LATVIAN DESIGN AND CRAFTSMANSHIP